The following are frequently asked questions, if you have additional questions please call or text us at 937-802-3122!
Q:Are you services all-inclusive?
A: Absolutely each guest gets to choose up to 3 of these complimentary add-ins and even gets a complimentary beverage with every service as well!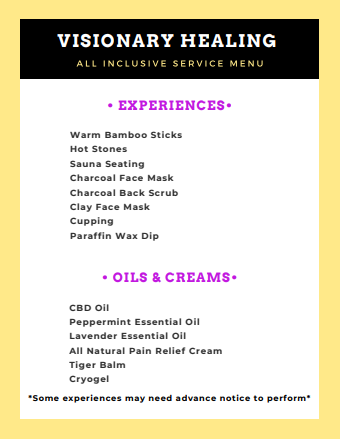 Q:Which services need advance notice to experience?
A: Due to the time needed to heat/setup/or prepare for these services that would be the warm bamboo, sauna, hot stones, thai yoga massage, or barefoot massage that need advance notice to perform. They can easily be booked online or let us know when scheduling that you would like these services. There is no additional cost, all prices are based on time, not style or tools.
Q: What should I wear for the Sauna? And what kind of Sauna do you have?
A: We have a near infrared sauna, there is no steam involved and is a therapeutic dry heat that works to warm up the body. We love to use it before massages for 15min to warm up the tissue for a more relaxing massage. When using the Sauna you are alone behind closed doors so most get undressed and use a towel that we provide for under you butt. However you can undress to your comfort level or we have robes available upon request. After your time in the Sauna we always suggest wiping down any excess sweat after your session with a hand towel and placing it in the laundry hamper located beside the Sauna.
Q: What should I wear for a Thai Yoga Massage, Sports Massage, or any yoga classes?
A: Comfortable clothing that is meant for stretching works best with a comfy t-shirt.
Q:Why is the bathroom locked?
A: Due to previous vandalism from people walking in from outside our restrooms are for guests only now and our building requires keys to be used to prevent future vandalism.
Q:Why is the main entrance locked sometimes?
A:Our main entrance is generally locked after 5:30pm on weekdays and all weekends. This added level of security is due to a neighboring business on the first floor that deals in defense technology, so when they are absent of the building added security measures are required. We don't mind it and when the door is locked you simply press the Wellness Center buzzer and we will provide a code for entry.
Q:Do I need to get undressed for my massage?
A: For most of our traditional massages we recommend undressing to at least the underwear for a full body massage. You are fully and properly draped at all times with a sheet and blanket. We only uncover each area that we are working on and promise to never expose you in any unacceptable fashion. Absolutely no inappropriate behavior is accepted from either client or massage therapist. If you would rather have a more clothed massage we recommend Chair Massage or Thai Yoga Massage that is fully dressed the entire time.
Q: Do you deep tissue massage?
A: Yes we have those that can provide deep pressure, as well as deep tissue without deep pressure. If you are looking for our deepest pressure we always recommend one of our barefoot massages.
Q:What is cupping and what are the benefits?
A: Cupping is one of our favorite tools to use! Cupping is a tool used that creates suction to help you recover faster from any injuries, surgeries, knots (trigger points), or adhesions. Your massage will usually use a blend of silicon cups for gliding and stationary korean or chinese medi-cupping sets in areas that need additional attention. Cupping is generally painless and sometimes can leave dark spots from bringing blood to the surface of the skin while increasing circulation. These bruise like circles will usually be completely gone within a week and are totally normal. If for any reason you do experience discomfort instruct and inform your therapist that less suction is needed, they need to move slower, or to stop, whichever you feel is best.
Q: What is the warm bamboo sticks?
A: Exactly what it sounds like! We use a variety of amazingly soft warm bamboo sticks and use them to massage in our hands! Some are long like a rolling pin and other pieces are small for detail work. We highly recommend trying the bamboo and is similar in purpose to the hot stones as far as simply adding heat to help soften the muscle tissue.
Q: Where are you located?
A: 1020 Woodman Dr. Suite 310 Dayton, OH. We are centrally located in the riverside/dayton area beside the 1010 urgent care. We are in the tan executive building on the 3rd floor! GPS sometimes takes people to the urgent care but you are right beside us!